Fun Beginning Puzzles for Kids, Book 1 is the perfect puzzle book to get kids interested in working popular puzzles.
Puzzles focus on short and long vowel sounds, beginning word blends, and logical reasoning. Designed to be easy to work, these beginning puzzles boost self-confidence, refine motor skills, and improve concentration.
Designed by a father and son team, Fun Beginning Puzzles for Kids, Book 1 will help children learn the joys of working puzzles.
Coming Soon!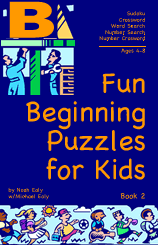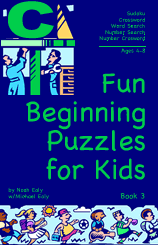 Product Details:

List Price: $7.95
Reading level: ages 4-8
Paperback: 144 pages
ISBN-10: 0-9797882-0-X
ISBN-13: 978-0-9797882-0-8
Product Dimensions: 5.5 x 8.5





Availability: In Stock
Delivery: 3-7 days
Download a Press Kit:
Interested in using Fun Beginning Puzzles for Kids as a Fundraiser?
If you belong to a club, school, or organisation that could use a fresh fundraising idea, suggest they distribute Fun Beginning Puzzles for Kids to members, parents or friends - it's easy, profitable and fun to do. BNG offers excellent discounts so your group can receive a significant percentage of the sale.
For more information on fundraising contact service@bngpublishing.com.